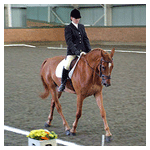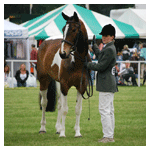 Sarah and her horses
I had always had my horses in DIY livery and when I chose to move Fidget into full livery I was apprehensive. That was over 10 years ago and I am still at Victoria Farm Stables. Tracey encouraged me to compete in affiliated dressage by giving me the opportunity to ride Rocky, whom she had trained to a high level. Her coaching and training gave me the confidence and skills to compete up to Medium level dressage with Fidget and Rocky. Fidget qualified for five BD regional championships, two of which Tracey attained the qualification and she rode him successfully at the championships. When I lost Fidget, Tracey was there for me and helped me to find my current horse, Smartie. Her judgment of Smartie was spot on, and with her continued support and encouragement I now enjoy all disciplines.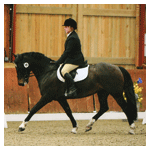 Jo and her pony, Zara
I was ready to give up on Zara and then I came to Victoria Farm Stables. Thanks to Tracey's patience and expertise, Zara has changed from an unruly, unschooled, temperamental mare into a willing and settled pony. Once branded as "difficult", I now thoroughly enjoy hacking, jumping and dressage with Zara, and that wouldn't have happened without Tracey's help.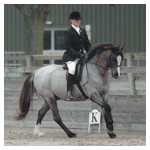 Lorina and her pony, Heaton Hopscotch
When I first started having lessons with Tracey I had done a few unaffiliated Prelim dressage competitions with Heaton Hopscotch ("H" for short). Over a period of three years we qualified for several BD Area Festivals and the BD Winter National Championships. He was placed at both of these prestigious competitions. The pinnacle of H's career was qualifying for the BD Regionals at Medium level. I couldn't have achieved these milestones without Tracey's help.
Judy and her horses
I came to Victoria Farm Stables nearly 12 years ago, with my first horse, Sidney, and very green. I can't thank Tracey enough for all the time and effort, and indeed patience, she has put into me and my riding and horsemanship. Sidney is now aged around 30, and is retired at Victoria Farm Stables where he has been so happy. I now have a grey mare, Ameera who is enjoying her schooling and hacking on our neighbouring common land. The attention to the wellbeing of all the horses at Victoria Farm Stables is absolutely first class, and both my horses are very happy. And I am too, because thanks to Tracey, Victoria Farm Stables is a very happy yard with a great mix of people from pensioners (me) to ambitious youngsters, all of us having different abilities and aspirations. We enjoy each other's successes, commiserate when things aren't going quite as we want them to, get together for pub lunches, visits to such shows as Olympia and the Royal Windsor Horse Show and local demonstrations, and support each other when we are competing. Thank you, Tracey, for making Victoria Farm Stables a very special and happy livery yard, which I now regard as my second home.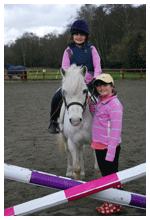 Amy and Lucy and their pony, Twinkle
I was seven when I started to ride at Victoria Farm Stables and my younger sister, Lucy was eight when she started. We were both novice riders and quite nervous. Tracey has helped us to become braver and to choose a suitable pony, the lovely Twinkle. Although he can be cheeky, he is a schoolmaster and has taught us such a lot. To begin with, we were scared to jump even 1', but Tracey has helped us and now we jump 2' 6" on Twinkle. Last year, we took him to a show and we came first twice. We wouldn't want to be riding anywhere else other than Victoria Farm Stables.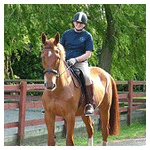 Gordon and his horse, Donald
I have kept my horse at Victoria farm for over 10 years now. Not only is it ideally suited for hacking, but Tracey is extremely knowledgeable and there is a fantastic atmosphere at the yard. Above all, Tracey looks after the horses brilliantly and they are always her first priority. The best yard I have ever been involved with!